Exercise is an important part of life regardless of age, but becomes even more crucial as we age. You may be concerned that you will injure yourself or exacerbate current conditions with exercise, but the truth is you probably have more to lose by not exercising.
According to the National Institute on Aging, exercising as you age can help with many things, including:
Improving your ability to perform everyday tasks

Maintaining and improve your physical strength

Improving your balance

Managing and improving diseases including diabetes, heart disease, and osteoporosis

Reducing feelings of depression and improving mood
While exercising does have many benefits, it can be difficult to find the time or energy to visit a gym, especially as you get older. We've put together a list of five beneficial exercises you can easily do in your own home, to help get you started.
1. Balance Walk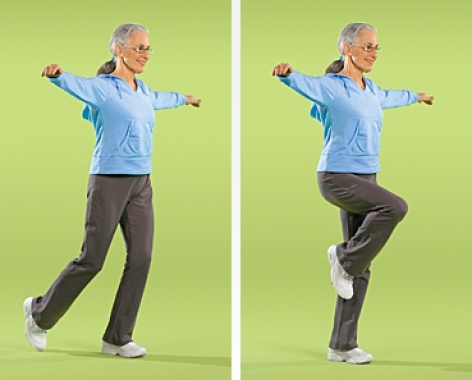 Balance can help you avoid falls and give you confidence when walking by yourself. This simple exercise can help you improve your balance—just be sure to have a chair nearby in case you start to fall. Learn how to do the exercise here.
Related: Avoid Falls In Your Home with These 4 Tips
2. Wall Push-Up
Strengthen your arms, shoulders, and chest with these push-ups that are much easier on your legs and knees than traditional push-ups. You may feel some soreness after you first begin this exercise, but with routine workouts, the soreness will fade. See how to do this exercise here.
3. Getting Up from the Floor
Not only does this exercise increase your flexibility, it's practical to know how to do in case you ever fall. Make sure you check with your doctor before doing this exercise if you've had hip or back surgery, and always have a chair nearby so you have something to hold on to. Learn how to do this exercise here.
4. Arm Curl
You'll need a resistance band instead of traditional free weights to perform these strengthening arm curls, as well as an armless chair. If you struggle with this exercise at first, you can always try alternating arms instead of doing them together. See how to do the exercise here.
5. Buddy Stretch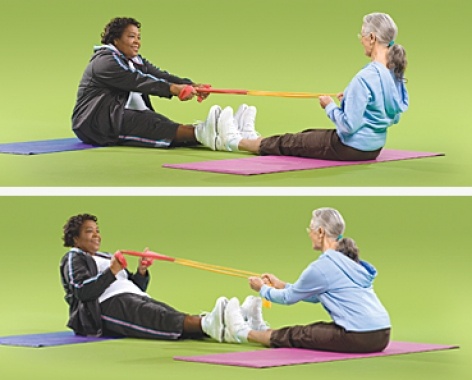 This flexibility exercise that targets the shoulders, arms, back, and legs is particularly fun because you get to do it with a partner. All you need is a resistance band or towel—and be sure to check with your doctor first if you've had hip or back surgery. See how to do the exercise here.
We all want to be as independent as possible as we age, and exercise, along with a balanced diet, can help you do just that. If you're nervous about exercising in your home without someone around to help in case of emergency, Bluebird Homecare can help.
Our caregivers can assist you with exercise, from setting up your exercise space to reminding you to do your exercises at specific times. Plus, they can cook you a nutritious meal after you're done exercising so you can stay healthy inside and out.
Contact us today to learn more about how we can help you.