Although a healthy eating should be a priority for everyone, it's an essential part of managing diabetes. When you think of "healthy eating," you might immediately think of diets and restrictions, but that's not necessarily the case. It's all about re-establishing your current eating habits without depriving yourself.
The best kinds of foods for diabetes are whole and unprocessed, like fresh fruits and vegetables. Incorporating healthy foods into your diet will allow you to meet your nutritional needs while improving your blood glucose levels, keeping your weight on track, and lowering your risk of diabetes-related complications, such as heart disease.
These diabetic-friendly recipes are easy to make and can put you on track to maintaining healthier habits.
1. Lasagna Stuffed Eggplant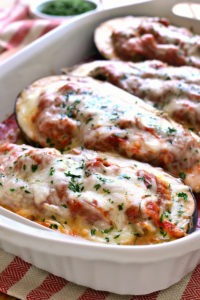 image via Lemon Tree Dwelling
Lasagna is the ultimate comfort food, but starchy lasagna noodles don't make it the healthiest choice. This recipe, however, allows you to indulge without feeling guilty. It contains the same ingredients as lasagna filling, only it's served inside a fiber- and protein-rich eggplant that will keep you feeling fuller, longer. The recipe calls for Italian sausage, but it can easily be swapped for lean ground turkey. Find the recipe here.
2. Cantaloupe Breakfast Bowls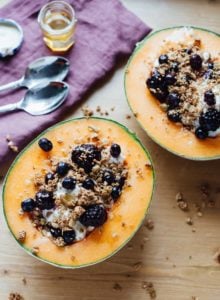 Instead of eating your yogurt out of a bowl, why not a cantaloupe bowl? Scoop out the seeds and fill with a cup of probiotic yogurt, granola, fresh berries, and an indulgent drizzle of honey. It not only tastes great; it's good for you too: cantaloupe is a great source of vitamins A and C, berries are packed with antioxidants, and granola is high in fiber – just be sure to read ingredients to avoid added salt and sugar. Get the recipe
here
.
3. Slow Cooker Lemon Garlic Chicken
image via Just a Pinch
There's nothing like the "set it and forget it" cooking method. This easy recipe cooks in the slow cooker all day and fills your home with a delicious citrusy, garlicky aroma. Serve this simple dish over a bed of sauteed greens, like spinach or kale, and you've got a healthy, filling meal – as well as leftovers to enjoy for the rest of the week. Find the recipe here.
4. Vegetable Frittata
This is a frittata recipe is low-carb and loaded with vegetables, making it the perfect Saturday morning wake-up or Meatless Monday meal. It contains vividly colored, nutrient-rich vegetables, including peas, scallions, mushrooms, and red peppers, which are loaded with heart-healthy lycopene and antioxidants. Get creative by adding even more veggies, like spinach and broccoli. Get the recipe here.
5. Turkey and Quinoa Stuffed Peppers
image via Chef Savvy
Stuffed peppers are so easy to throw together, making this recipe a great option for a weeknight meal. Lean ground turkey and plenty of flavorful spices make this dish taste delicious, but quinoa is the real star of this meal. The ancient Incan superfood is packed with all nine essential amino acids and is high in fiber, which can help prevent blood sugar spikes. Find the recipe here.
6. One Pan Lemon Garlic Baked Salmon and Asparagus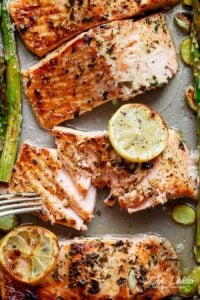 image via Cafe Delites
If you've never tried a one pan meal, consider this salmon dish. It's easy to prepare, tastes great, and clean up is a breeze. Salmon is a fantastic source of heart-healthy omega-3 fatty acids and pairs perfectly with asparagus, which is high in glutathione, an antioxidant known to ease the effects of diabetes. Best of all, it's ready in 10 minutes. Find the recipe here.
Do these recipes look great, but you don't have the time or energy to make them, much less run to the grocery store? Bluebird Homecare can help.
Our meal preparation services are an ideal solution for those who are unable to cook for themselves. Our staff can work at your direction to execute a meal plan that satisfies your nutritional needs and your taste buds. We can even do the grocery shopping for you.
Learn more about how our meal preparation services can help you or your loved ones. Contact Bluebird today.