Did you know that getting the right nutrition can reduce the risk of heart disease, stroke, type 2 diabetes, bone loss, some kinds of cancer, and anemia?
Nutrition is important our entire lives, but becomes an even more vital part of our lifestyle as we age. Not only can your food choices affect your weight, it can affect energy level. Not getting the right nutrition can make you lethargic and even cranky.
We know that it can be difficult to start eating healthy, which is why we've put together a list of some of our favorite recipes—all of which include ingredients that contain crucial nutrition as you age.
1. Berry Coconut Steel Cut Oatmeal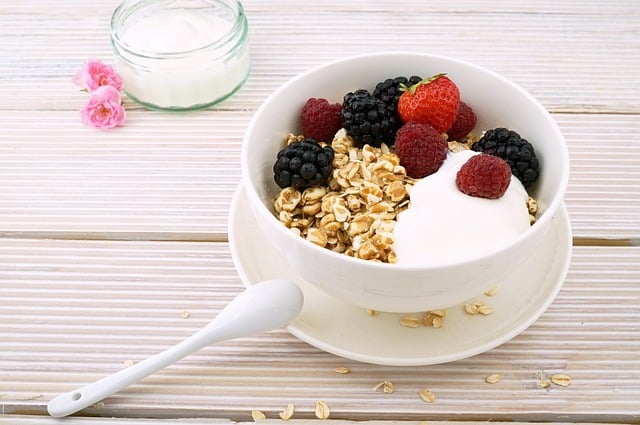 Start your morning off right with this delicious and healthy oatmeal! It's recommended to replace refined grains with whole grains as you age, and the steel cut oatmeal in this recipe does just that. You won't even notice the difference, thanks to the fresh blueberry sauce and coconut milk. If coconut isn't your thing, you can replace it with low-fat milk. Get the recipe here.
2. Turkey Stuffed Bell Peppers
For a quick lunch or dinner, look no further than these stuffed bell peppers. Vegetables with deeply colored flesh, like bell peppers, offer the most nutrients. These are stuffed with turkey and brown rice, which are great options for lean protein and whole grains, both of which are recommended for those in their later years. Topped with cheese, these stuffed bell peppers make for a wholesome and appetizing meal. Find the recipe here.
3. Salmon, Kale, & Sweet Potato Bake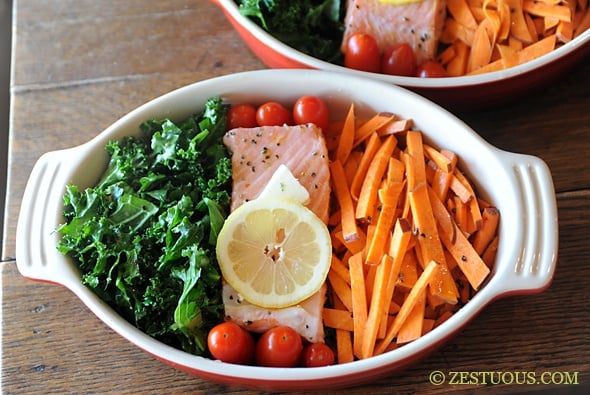 This easy dinner packs in all the flavor—and nutrients—you could want, plus it's simple to make! Between the fresh kale, sweet potatoes, and tomatoes, there's plenty of nutrients and fiber. The salmon is a great source of lean protein, but could be swapped for chicken if you prefer. Get the recipe here.
4. Chicken and Black Bean Taco Salad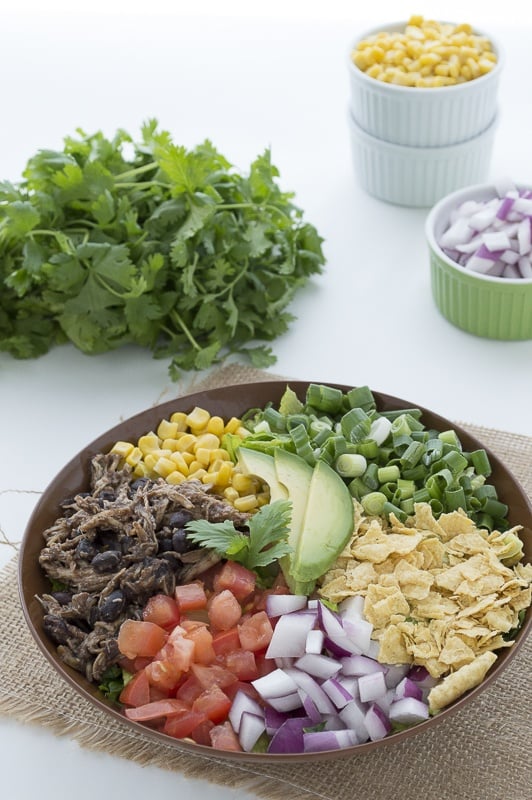 Spice up your menu with this Southwestern-inspired recipe. The beans and chicken provide plenty of lean protein. The vegetables add more than just color to the plate—you'll get tons of fiber and nutrients from them. Make sure to use whole grain tortilla chips to top off this healthy and easy meal. Get the recipe here.
5. Strawberry Banana Greek Yogurt Smoothie
Whether you make this Greek yogurt smoothie for a breakfast on-the-go, a snack, or even dessert, it's sure to satisfy your sweet tooth. The best part is it's packed with nutrients, fiber, healthy sugars, and low-fat dairy! Throw the four ingredients in the blender, and your smoothie is ready in minutes. You can even keep sliced fruit in the freezer so you can make one of these at any time. Find the recipe here.
6. Mushroom Barley Soup
Warm your soul with flavorful soup. With barley, mushrooms, carrots, and onions, you'll get a well-balanced meal in one bowl. You can even add some roasted chicken for a protein boost! Make a big batch, and you can keep eating the leftovers for days. Get the recipe here.
---
Do these recipes looks delicious, but you're unable to find the energy and time to cook for yourself, much less grocery shop? Bluebird Homecare can help!
Our meal preparation services are the perfect option for those who are no longer able to cook for themselves due to age or surgery. Our expert homecare providers will work with you to plan a meal schedule that meets your health and dietary requirements, and includes delicious meals sure to satisfy your palette. We can even do the grocery shopping!
Learn more about how our meal preparation services can benefit you or your loved ones. Contact us today.