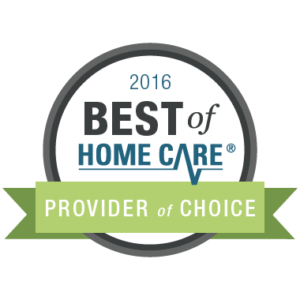 Bluebird Homecare has been awarded the 2016 Best of Home Care Provider of Choice from Home Care Pulse, based on client satisfaction scores gathered by Home Care Pulse.
"This award recognizes the hard work we do every day, but the real reward for our company and its employees is knowing that we help make life easier and more comfortable for the people who need help performing the simple tasks of daily life that many of us take for granted," says Stuart Brunson, CEO of Bluebird Homecare. "Our caregivers are the heart and soul of our organization, and they deserve the credit for this recognition."
Home Care Pulse gathers feedback from clients by conducting live phone interviews each month. Because Home Care Pulse is an independent third ­party company, it is able to collect honest and unbiased feedback. Bluebird Homecare has received the highest satisfaction scores from their clients in areas such as professionalism, services provided, compassion of caregivers and overall quality of care.
"We want to congratulate Bluebird Homecare on receiving the Best of Home Care Provider of Choice Award," says Aaron Marcum, CEO and founder of Home Care Pulse. "Since this award is based on client feedback, it demonstrates their dedication to providing the highest quality of care with a focus on client satisfaction."
Bluebird Homecare provides in­-home non­medical care, and offers services including companionship, meal preparation, housekeeping and transportation. Additionally, they offer dementia, Alzheimer's, Parkinson's, diabetes and developmental disabilities care.
Founded in 2015, Bluebird Homecare currently has locations in Louisville, Atlanta, St. Louis and Birmingham. The company plans to expand to Lexington, Ky., Huntsville, Ala., Cincinnati and Indianapolis by the end of 2016.